All produce is spray-free or certified organic

The best quality. Tastes better, last longer.

100% happiness guarantee

Trusted by more than 500 locals every week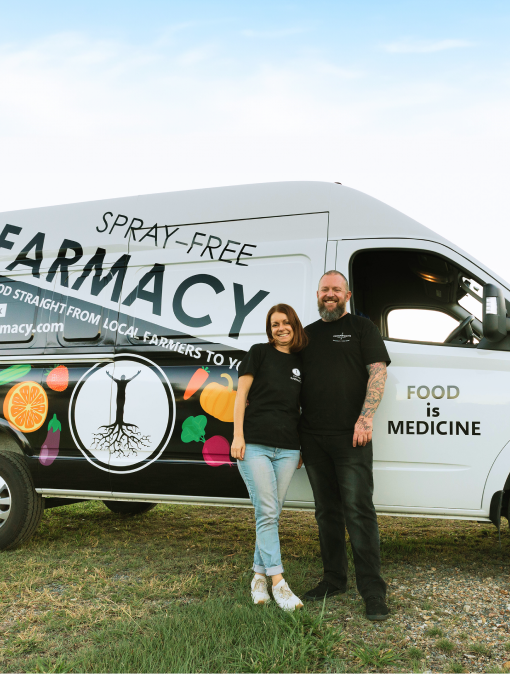 Say hello to a better food system
Why battle supermarket crowds for produce that's been sprayed with nasty chemicals and shipped all over the country when you can get fresh, spray-free food straight from local farmers and makers?!
We make it EASY for Brisbane and Gold Coast families to enjoy fresh organic food that tastes and smells like real food should. We support small farmers who don't use chemicals and focus
on regenerating their land, as well as artisan food makers who choose only the best organic ingredients for their delicious creations. Collect for free from any of our 30+ pick up locations or choose home delivery for $10.
Home delivery is FREE for orders over $190.
About Us
32

Spray-Free & Organic Farms we support

135,291

Boxes of fresh food delivered since 2015

108

Organic brands & Artisan Food Makers we support

431

Kindness boxes delivered to local families
Our zero-waste cycle
You Order Online
By Midnight Tuesday
Pick what you want and select a pick up location or home delivery.
We Harvest & Pack
Wednesday to Friday
Your produce and groceries are lovingly collected and packed in recycled boxes with minimal plastic. We only order what we need so there's no waste.
Delivery to You
Thursday to Saturday
Collect your fresh goodies from one of our 30+ pick up locations across Brisbane and the Gold Coast or have it delivered to your door.
Enjoy Fresh Food
Without added chemicals
Feel great about supporting local farmers and makers whilst feeding your family the best quality food.
We love our customers and they love us too
So many quiet smiles of joy in unpacking our box tonight - sugar snap peas, fresh turmeric, star fruit and pears! How delightful and exciting eating with the seasons can be once you change how you buy your produce.
Pullenvale
I think it is terrific! I honestly did not know that potatoes actually had a flavour until I ate one of yours! My daughter in law and I both love getting our orders and my daughter is going to order soon as well. Thank you. I love it!
Mount Warren Park
We loved the order last week... Amazing what real fresh veggies smell and taste like. My kids and I were marveling at the real lettuce smell!
Ferny Hills
Oh my gosh. Picked up my box today and everything is soooo fresh and smells just like veggies and fruit should smell like. Definitely getting this again.
Albion
Well I have only tried the carrots, zucchini and a tomato out of my box but golly gosh..... WOW!!! The flavours are astonishing! The carrots....so sweet and juicy and tasty! And the zucchinis have flavour! I took a carrot for a friend at work and she was equally impressed. Will definitely be a return customer.
Ormeau
I got my first box of organic fruit and vegetables from Spray-Free Farmacy today. How lucky am I that I can access local chemical-free produce... It was so fresh it even came with a jumping spider on the bananas! The carrots are the best carrots I've tasted in years and honestly say you can taste the difference in all of the food.
Kenmore
I received my first order last week and wow. I can't remember the last time I had produce that was so fresh. Everyone here has commented on it. The pineapple superb and the cabbage! So big I couldn't fit it in the fridge without cutting it in half and yum so delicious. Plus the added bonus that you supply our gluten free bread as well! I am so looking forward to my next order! Thank you!
Victoria Point
My family loves the pink ladies in last week's box. They are so good. Thanks for the fresh and healthy veggies and fruits. Sometimes I get veggies that I don't usually buy so I'm more inspired and motivated to cook with new recipe and we have a more varied and balanced diet so healthier. I'm so happy with the change. Now whenever I go to big supermarkets and see the "perfect" looking veggies and fruits they don't seem natural at all.
Wynnum
We have been buying our fruit and veg from spray-free farmacy now since the beginning of the year. All of the produce we receive is tasty. I find the kids even ask to eat fruit and other salad items more often. So even they have noticed the difference in quality and taste compared to the supermarket. We definitively will not be going back to the supermarket for our fruit and veg.
Ferny Hills
I love getting my box of super fresh chemical free produce from spray free. Always excellent quality with no imperfections and great value. The convenience of local pick up and the option of item swaps makes it so easy to switch to pesticide free.
Tarragindi
I love Spray-free Farmacy! The produce is so fresh and it tastes so much better than generic produce from the supermarket. I was previously buying organic produce but once I tried Spray-free Farmacy I couldn't believe the quality and I was amazed at how much I received for the price. I love that I'm supporting local Australian farmers and a lovely local family business. I'm so grateful we have access to such beautiful fruit and veggies. Thank you Spray-free Farmacy!
Moggill